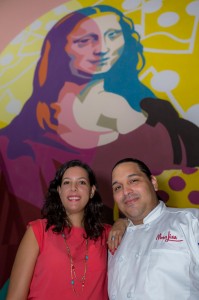 Covering restaurants for 7 years I can't say I've found too many reasons to be in Rio Piedras, an area mostly known for outdated menus catering to patrons who prefer to dine on nostalgia and the occasionally decent eatery for cash strapped students. Don't get me wrong, I always looked for a suitable excuse to visit the territory of my beloved (cough) alma matter, rub elbows with the college kids in their trendy bars and pretend I'm still thin with a full head of hair, but Rio Piedras had lagged behind the more world savvy vigor of Santurce and Old San Juan, so this Gallito hadn't come home to roost very often.
Enter, Mona Lisa. With an arthouse streak and a hipster's comfort food sensibility, Mona Lisa is exactly the kind of flagship restaurant that defines a shift in a neighborhood's culinary experience.   Restaurateur Lisa Blanco is also an art curator and her subject matter here, the Da Vinci classic herself, is given the pop treatment on a two-story wall, holding a slice of pizza in her familiar ambivalent charm. Inside, a collage of clippings pays homage to the urban legends of her disappearance from the Louvre in 1911. It's all smartly done, but not too smart to come off as stuffy or weighty. The design is tongue in cheek, yet fiery in its defense of everything this university town symbolizes. The open aired patio invites you to embrace the sights and sounds of Calle Universidad while next to the bathrooms there is a sleek logo that reads "RP", a harbinger for a more sophisticated Rio Piedras nightlife.
Jeovanie Orria is a versatile chef we'd follow blindly having tasted his menus from Calle Cruz to Calle Loiza, but like an old groupie petitioning for greatest hits, we always know we're going for pizza. A master of different styles and a dough maker de corazón, Chef Orria is going with a lighter, crispier version at Mona Lisa, using artisanal toppings in harmonic combinations. We did try a mushroom appetizer stuffed with pureed prosciutto and vegetables that I'd recommend to any fellow 'shroom lover. Also, the yucca gnocchi comes in a robust, old school, onion based Genovese sauce, capable of sensory time travel, which we'll take as the "foodies pick". However, most of you will come for the pizza and the titular Mona Lisa comes with delicious marinated cherry tomatoes and roasted almonds. For drinks we tried a pretty strong Sangria and tap beers are on the coming soon list.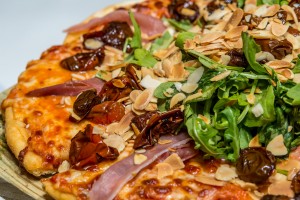 On most nights a homeless keyboard man plays outside in the patio and he's actually pretty damned good. A huge 2nd story space suggests a wide array of future activities. Pricing is in the affordable range and the crowd is a mix across different ages. Local artists are allowed to paint on the Greek columns, making for some hilarious juxtaposition but capturing the frenetic creativity and rebellious streak of the inmates, I mean students…
Yes, it's good to be back.
Mona Lisa
Calle Universidad 54
(787) 754-7272
Mon-Fri: 11am-11pm
Sat-Sun: 12pm-11pm