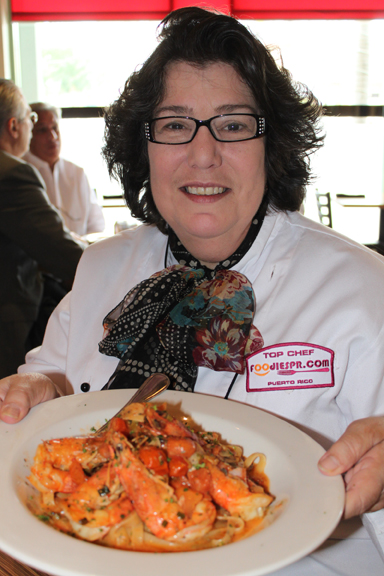 Foodiespr se enorgullece en contar con la consultoria y colaboración de la Chef Norma Llop quien ha sido seleccionada para pertenecer al grupo de FOODIESPR TOP CHEF  por la gran colaboración a la industria culinaria y su interes en apoyar y guiar nuestras futuras generaciones en la indutria. Luchadora junto a nosotros por el consumo de productos Puertorriqueños.
Gracias Chef por su ayuda, colaboración y apoyo a Foodiespr.com
Chef Norma Llop
Culinary Destination & Product Development Officer
C/O :  Mesones Gastronómicos Restaurants & Paradores de PR (Island Inns)
Promotions & Marketing Department
PUERTO RICO TOURISM COMPANY
(787) 721-2400 x. 2222 Office
nllop@prtourism.com
Norma Llop is the in-house assessment
Chef & Culinary Destination Product Development Officer   
for Puerto Rico Tourism Company (PRTC), Government of Puerto Rico.
Chef Llop's enjoys her diverse set of reconstructed duties every year, all related to gastronomy.
Since she return from her post graduate studies at C.I.A. in New York back in 2000, she coordinated the occasional press or travel agents familiarization trips as well as did the scouting for film (TV) crews, freelance writers for public relations with Communication Department peers common team efforts.
Her early years budding as a hospitality mélange of experiences between public office and private hotel and food management companies before 1990's :
Chef Llop is still responsible coordinating training sessions, updating marketing tactics for the Tourist Board, known as Puerto Rico Tourism Company, a Government support arm for the Island's people. Llop has always been active seeking opportunities to promoting the Island's gastronomic havens she well has developed known as Mesones Gastronómicos for the last 12 years of 18 since created.
She also handles special attention to menu development, translates when needed to Spanish or English. She also coordinates and finds sponsors for Agency's special events and cooking demos as promotions. Lately, more than ever, she assists tourism industry clients in operational needs for local the members. Puerto Rican cuisine independent restaurants, small hotels and inns around the Island, in addition to provide full support to Mesones Gastronómicos & Paradores de Puerto Rico, two in-house program for 40 prized family operated restaurants/inns brands, either in joint or separate promotions since then.
Chef Llop, is a graduate of the University of Puerto Rico (UPR), holding a BA in Education and Communications She left to finish a postgraduate AOS in Pastry Arts at the famed Culinary Institute of America, in Hyde Park, New York. She just completed her MBA in Food Marketing at UPR.
Norma has worked in the tourism industry in private hotels, such as fisrt mega resort complex with 1,200 rooms El San Juan Resort, The Palace and ESJ Towers complex, when Jack Katz first developing a successful Cruise business in nightclub tours.
She then accepted working two years for a much smaller facility, the 90 room original of 1980's rebirth opening of perhaps the first of San Juan's  boutique inn, called the Ramada San Juan.  Back then she handled Sales & Marketing and Banquets Departments during ex-Tourism Director Pedro De Aldrey  shortly after leaving his Executive Director position at PRTC. Her best achievement for this small petite business hotel was developing small weddings in banquet halls for weekend traffic, which was a hard sell ten. Perhaps it was here when she returned to PRTC and reconstructed her career into small restaurants, inspired by Chef Mike Fierro, who then commanded her banquet needs at the hotel on property for her 38th birthday.
Perhaps it was under the leadership of  Luis Fortuño's command late 1990s that she retrun to grad school, and inspired by Chef Marisol Hernández, a good neighborhood restaurant chef, coming from Hilton's management team, she worked the best restaurants in town, performing as Night Pastry Chef at fine-dining Chef Marisoll Contemporary Cuisine, did a short practice at Augusto's.
She took a break when her husband passed away fighting cancer, returning to a double shift again,
taking Pastry Chef at El Picoteo Restaurant (Spanish/Tapas) at El Convento Hotel, a 56 Preferred Hotels historic jewel  & switching to pastry shop Dolce Albeggiare all located closed to for home and daytime
work at PRTC's La Princesa's Old San Juan, all during late 1998 and entering the new millennium's 2002.
Her thirds career change in her portfolio opportunity became her fulltime main course:
Chef Llop always encouraged several marketing programs at Puerto Rico Tourism Company plus she placed emphasis in food & beverage subjects related to Puerto Rican Cuisine, as theme for most activities coordinated within the multiple projects she developed while she managed several positions under the Marketing and Promotions Department, including her most recent transfer to Internal Tourism Department, currently the second most important tourist market for Puerto Rico, next to USA.
In late 1990's , she transferred to the new of unit, Research & Development Department. Her principal achievement was developing the innovative all-included Island culinary tours, or  Rutas Gastronómicas, with an European style concept. The holiday options are designed for international markets, under special interest groups. They feature small, Island located deluxe hotels and inns accommodations, most meals, New World wines, deluxe ground transportation, and guided by food specialized escorts.
In May 2003, she asked to be transferred again to her current placement, at Promotions & Marketing  Department, to place special attention on the 34 Mesones Gastronomicos independent restaurants and work on 22 of the Paradores de Puerto Rico restaurant units and develop further Rutas Gastronomicas into a fly & self-drive touring program version.
Priority attention has already been places to work on in earlier years:
• Menu development, based on regional, seasonal ingredients as specialties of the house for each Meson awarded restaurants, all located around the Island of Puerto Rico.
• Find new sponsorship sources for promotional venues, Training sessions both for restaurant managers, owner and cooks, And, draft a new Operations Manual.
Mesones members will be going through a comprehensive evaluation program, where Quality of Service inspections regarding food quality, safety and food presentation will be top priority.
Chef Llop recommended the creation of a new Culinary Advisory Board 2004-2006 with Chef Llop assessment. The Chefs Team did not last long due to financing limitations for the retraining objective as continued education. Appointed volunteered chefs change every year for another two years. They are responsible for update seminars for current Mesones members and staffers, make custom-made menu recommendations and provide feedback in operations.
Norma' s was moved back to function under Marketing Department project is to design and introduce Rutas Gastronómicas to local consumers market as the new culinary destination option, for short Island weekend trips,  using car rentals  as means of transportation, with a Gastronomical Road Map, with  suggested tour itineraries to follow for each region. They will include:
Sightseeing suggestions of regional tourist attractions, nature parks and beaches, plus, Highlight endorsed of food & beverage local factories, supermarkets, bakeries, candy shops open for public consumption and retail sales, as souvenirs to take home.
A calendar of seasonal cooking classes and demos, food grazing buffets, food suppliers and special culinary events of the area.
Recommend restaurants and Mesones, as well as inns, hotels and Paradores of the area.
Organize escorted visits to native farmers' markets available at each regional Ruta is another special interest project on her desk.
Destination PUERTO RICO Marketing since 2001 in co-op supporting achievements of this first decade, until 2010 in Chef Llop's agenda:
Chef Llop has been an active, influential team member for other in-house projects such as coordinating local and USA based media coverage and food editors to Puerto Rico.The last 6 months, Food Network, over 6 shows in the last 2 years, the last one The Melting Pot Lonely Planet World Food Tour with BBC of London.
• Argentina's El Gourmet.com TV Channel and local Channel 6, 2 and 4 food sections.
• Brazil's GOBO TV Network series.
• Food & Wine, Martha Steward's Weddings,  Saveur , Bon Appetite and Gourmet magazines.
• She had the first food radio show segment at Sistema 102, Has worked in several food exhibition shows such as: MIDA Expo Alimentos, Amigo's Fiesta de la Vid, Festival de Cocina, Vintage of Hospitality Gastronomical Night and Saboreando Santurce • Food Festival Plaza Food Show at Plaza Las Americas Shopping Mall, the largest in the Caribbean.
Chef Llop has been guest speaker of several international conventions, her last public speaking events are several. In Turin, Italy at the Bacardi-Martini Grand Prix, where she placed a bid for IBA (International Bartenders Association) for June 2003 to be held in San Juan.
She has did double foused agenda, as food competition Judge at PRH&TA Annual Convention for many years. She has been a speaker in the American Travel Agents Association World Travel Meetings and Conventions plus is an active member of Chamber of Commerce, PR Chef's Convention and participates yearly in the regional meetings of ACF (American Culinary Federation).
Perhaps Chefs best activity proposal and uphill development was achieving active sponsorship food events with PRTC support for over the last 10 years and perhaps her best events as culinary team support expert has been:
• SABOREA PUERTO RICO 2008 2009, 2010 and 2011 for Spring.
• A Taste of Rum, 2009, 2010 and 2011 also in Spring,
Lastly, the  two famous City Of San Juan endorsed famed food events were added to her portfolios are:
• SOFO Culinary Food Fest
• Condado Culinary Food Fest
Both events now take place twice a year, demonstrating a unique but massive team spirit machine inspiring other events that have followed her track record as special events expert from PRTC endorsements and technical services in multi-efforts of one to several work teams:
• Food & Wine Puerto Rico Fest (2008-2009-2010-2011) Every Fall'
• Sangrias Fest (2010-2011)
• La Placita en Plaza (Las Americas Shopping Mall) and many smaller agro tourism events.
The next 10 years of the new Millenium take over:
Currently, she is back to planning new strategies in career development since transferring to Guaynabo's PRTC offices back  in early 2009. She now dedicates half of her time to new job and department composed by Mario Gonzalez La Fuente, Director of PR TC at PRTC Tourists Services and Products Department in Guaynabo Building and the other half is dedicated to a new team composed of several Government Agencies leading champs, dedicating her time to changing business growth in the Foodservice Industry following the supporting work plan designed by PRIDCO,
Department of Agriculture and Commerce tied to private sector organizations such as:
Industriales, MIDA, ASORE, and Retail Sales Associations.
Chef is also concentrating in closing the work gap for newly graduates form city colleges and universities, finding work practice opportunities and retraining for a better future for young
Puerto Ricans as well as creating new Culinary Tourism as well as Agro Tourism and other niche travel combination travel opportunities are created in small business development. She has been first to sign up for additional volunteer work with added coaching and retraining in tourism services.
Looking back into her 30 plus years of dedication to re-construct new ties with Tourism and Food Industries, she is convinced that we all next 10 years, it's best to Go Back To School. A new Puerto Rico must emerge to recuperate the time, funds and opportunities we may have lost, since Sept. 11, 2001, when Twin Towers event toppled the USA economy and our economy in Puerto Rico has been frazzled seriously too,
as post Irak and Afganisthan Wars finally end.
Entrevista por Foodiespr.
1. ¿Que le llevo a tomar la decisión de convertirse en Chef? ¿Hubo alguien que le Inspiro?
Inicialmente no sabia como hacerlo ni si era posible. Cuando pedí a mis padres estudiarlo, ambos reaccionaron en negativo. Las razones nunca fueron claras. Recuerdo a mi madre decir: un "una señorita estudia una carrera y no un oficio". Hoy entiendo que tenia razón dada la época, el sacrificio que hacían para estudiar una carrera y sabia que a los 18 se depende de los padres en "esa" recta final y me prometí regresar a la idea cuando pudiera pagar los estudios. Pase por UPR con varios cambios.
Comenze en Educación y termine en Comercio. Luego de casi un año de buscando trabajo. Por fin, me abren la puerta en turismo solo porque había estudiados dos idiomas y tenia un Bachillerato cosa que en 1976 pocas teníamos.  Asi comenze trabajando y continuo estudiando cursos cortos en Turismo. Comienza Lufthansa a volar a PR  y CTPR me envia a Alemania a estudiar alemán para adiestrar empleados de hoteles en que, como, y cuales eran las cosas y servicios que gustan a este mercado. Luego estudie Guia Turístico, de nuevo para adiestrar a guías en Canadá.
De aquí solicito traslado a Mercadeo, y es el director, Pedro D. Aldrey, ex gerente general de Caribe Hilton, quien nos reúne para asignarnos una oficina en el exterior por dos años y regresar con esta experiencia. Acepto el traslado a una oficina en Canadá. Aquí comienzo a ver la importancia del estudio en F&B. Canadá comienza a desarrollar su campaña turistica "Canada, The World Next Door" y son sus universidades las que unen la Agricultura al Turismo. Creo que aquí veo bien de cerca, junto a mis colegas Canadienses el despegue de lo que se conoce como turismo culinario. Vi luego el desarrollo del despegue de lo que hoy también se llama agriturismo. Ellos perfeccionan las tendencias y al regresar de esos dos anos, me doy cuenta de su importancia y comienzo a trabajar en PR  para desarrollar el programa de ventas y adiestrar nuevamente a Agencias de Viajes.
Trabaje este programa PR Travel Expert con exito encaminando ya viajes a distintos nichos de viajes: deportes, cruceros, gastronomía, cultura, Luna de miel. Salgo de Turismo para comenzar a trabajar en hoteles resorts del momento en F&B, en Banquetes para El San Juan Hotel y El Conquistador por 4 años y decido regresar a Turismo para cuando llega la famosa Regata Colon 92, bajo CTPR con Miguel Domenech. Bajo Luis Fortuño, como Director de la Agencia es que se me motiva a regresar a terminar un MBA y es cuando decido a hacerla en Turismo Culinario, haciendo Los cursos de especialidad en C I A (Culinary institute of America).
En cinco años de estudio y trabajo, me convierto en Chef Pastelera y termino mi MBA en esta forma para fin de Los 1990. Fue un recorrido largo, pero con muchos sacrificios, y muchos pequeños pasos y cambios en carrera, hoy soy una mujer muy feliz y competente, Hize mi practica en Chef Marisol Contemporary Cuisine, luego estuve meses con Augusto's y termino. Con Chef Blanca Gonzalez Relano, en Kasalta y hoy tremenda repostera y cocinera española en varios bakery y restaurantes. Airemuno el actual en Viejo San Juan. Se que nadie se ha antojado de mantener una Carrera en CTPR y mantener una "practica" constante en restaurantes. El programa de Mesones gastronómicos me ha ayudado a tener una practica constante como adiestradora de cocineros graduados y trabajando con los 30 miembros que tenemos, todos enfocados en cocina local e internacional. Si, he sido muy enfocada y afortunada.
 2. ¿Que le ha motivado para llegar a la posición donde se encuentra ahora dentro de la industria?
Creo que el entender lo importante de ser consistente en mi propia carrera de mejorar mis destrezas para mantener un grado de competencia. No es facíl. Hay que saber manejar prioridades incluyendo ingresos, familia, y puedo decirte que Los muchos cambios que ven Los que mejor me observan, es un grado de gustarme el análisis, el estudio constante y el renovarse cada año para mantenerme competente con aquellos cambios externos que no controlo.
El buen cocinero como cualquier otro profesional, tiene que salir de su zona cómoda para buscar a otros constantemente para apoyar su sentido de curiosa creatividad. Esto quizás es lo mas difícil (y costoso) de mantener. Hoy día, mi gran reto es el tiempo y ahora la salud. Sin hacer tiempo organizado y enfocado en pequeños premios ademas de descanso adecuado para conservar energía y salud es bien difícil y el cansancio físico comienza a jugarme mal. cumplo 55 y no voy a parar mi desarrollo.
Seguirán Los cambios cortos y posiblemente cada año. Ya llega la Navidad e y el Año Nuevo me obliga a hacer un estudio mental interno de cual sera mi próximo paso . Ya sabrás que intento trabajar mas hacia desarrollo de pequeños empresarios dentro de la gastronomía y ya defino las carreras del futuro. Créeme serán bien diferentes a restaurantes finos y hoteles de lujo. La economía actual nos empujara ha grandes cambios en PR sufrirán mucho los cocineros que se encierran en restaurantes cómodamente.
3. ¿Qué mejoraría en la industria gastronómica de Puerto Rico?
Regresar a Los estudios, si posible al exterior para saber nadar en el resto del mundo culinario y no ahogarse en el proceso. Hay que buscar mentores  o "coaches" personales que te ayuden a desarrollar tu sentido del gusto. El milenio te obliga a viajar, en el país, en el tiempo y en regiones dentro de tu propia cocina local.  Tienes que asegurarte y ganarte la confianza de tus seres queridos para que te apoyen en cada pequeño paso. Cada pasito darle un poco de tiempo para practicarlo. Por ende, Los mayores tenemos que regresar a los jóvenes.
Dedicarles tiempo y espacio. No es supervisarlo, es crear la oportunidades para que se desarrollen esas nuevas ideas. Es compartir mas con ellos. llevárselos a trabajar y compartir la experiencia . No es dar cátedras aburridas. Es velar y cuidar como jardinero para recortar los ganchitos innecesarios . Darles múltiples practicas dentro y fuera de tu cocina. Si algo aprendí de Chef Marisol es que hay que crear las experiencias de tu grupo de trabajo. No olvido que Ella no Daba aumentos de sueldos notables, sino que llevaba a sus cocineros a comer fuera, para ver la competencia del momento que Ella creía podía destruirla . Recuerdo haber ido al Ritz y al  Conquistador en Stingray.  En la cena, discutíamos el menú, saboreamos platos distintos todos, comparamos las experiencias del servicio y hasta discutíamos la ambientación del local, por dentro y por fuera.
Ella me aprovecho para aprender de ventas de grupos turistas y locales, hacíamos muchos  mini eventos dentro y fuera del restaurante y viajábamos a la isla, nos reuníamos con grupos mixtos de la industria, trabajamos de vez en cuando con relaciones de comunidad y discutíamos incluso con nuestros mozos que y porque se vendía lo que se vendía. De Chef Blanca lo que mas me gusta es que esta abierta a trabajar nuevas ideas y producto, Ella es bien consistente y posiblemente vela mas los cambios que mejor cumplan con conservar sus Cartera de clientes. Yo desarrollado mas un gusto por local y afino mas para comprar directo al agricultor. Trato de no mezclar mucho en fusiones con productos extranjeros. Para mi es anti-boricua y poco orgullo nacional para cocineros que cocinan con productos importados. No es necesario.