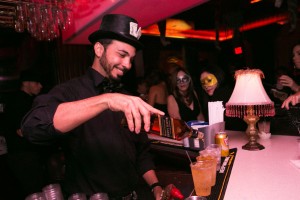 El whisky escocés Johnnie Walker Black Label vuelve a hechizar al hotel El San Juan Resort & Casino de Isla Verde, transformándolo en un hotel embrujado para la celebración del lujoso JOHNNIE WALKER BLACK HALLOWEEN. Llena de misterio y sorpresas, la fiesta del Caminante fue una noche de brujas inolvidable con cuatro eventos simultáneos en los espacios más exclusivos del hotel.
La hechizante experiencia cuenta con la mejor música, "premium hours" de Johnnie Walker Black Label y los disfraces más creativos en un ambiente de lujo. El BLACK MAGIC fue el destino de todos los que quieren caer bajo el embrujo de la música en la energética pista de baile de Club BRAVA. El lobby de El San Juan Resort se conviertió en el BLACK HAUNTED HOTEL, para recibir a los invitados con múltiples sorpresas y la música del DJ Iván Robles y Cuenta Regresiva. Para festejar de cerca con El Caminante y saborear cocteles con el whisky escocés Johnnie Walker, el JOHNNIE WALKER LOUNGE Chicco Bar es el spot de la noche.
Además, los invitados a THE BLACK ROOM, la exclusiva fiesta para VIPs en The Rose con entrada sólo por invitación, disfrutaron con la música de DJ King Arthur y los cocteles del Caminante.
"Este año, el Johnnie Walker Black Halloween cautivó con el mejor ambiente y una extraordinaria celebración que cautivó todos los sentidos," comentó Brenda Pizarro, Gerente de Marca Senior de la División de Licores de Méndez & Compañía. "Con tres lujosas fiestas a la vez, Johnnie Walker sigue llevando la increíble experiencia de la noche de brujas al próximo nivel."

"Great party with the number one whiskey! Cheers @[122909857780782:274:DOT Communications]!"
From Johnnie Walker Black Label Halloween Party. Posted by Foodiespr.com on 10/28/2013 (44 items)
Generated by Facebook Photo Fetcher 2