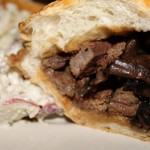 Gordon Wilcox tuvo la tremenda idea de pedirle a los Chefs de mayor renombre en Boston que diseñaran un sandwich especial para El Parish Cafe. Estos sandwiches llevan el nombre del chef y el nombre del restaurante del mismo. Aunque el restaurante cuenta con un completo menu de aperitivos, ensaladas, sandwiches de la casa y platos principales, cuenta con el ya mencionado menu de Chefs y una extensa barra con gran variedad de cervezas de barril y tragos de la casa.
The Benny: a light sandwich with spicy flavor.
Created by: Ken Oringer, Chef/Owner – Clio, Boston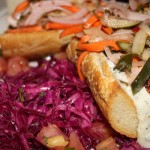 , MA.
A spicy Vietnamese grilled chicken breast sandwich served on a hard baguette with assorted vegetables and a mint-coriander mayonnaise. Sided with a spicy purple cabbage slaw tossed with tomatoes, fresh mint, Thai basil and cracked peanuts.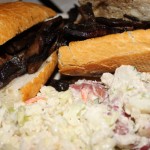 The Regal Regis: my favorite with great flavor and texture.
Created by: Susan Regis, Chef – Upstairs on the Square, Cambridge, MA.
Sliced flank steak and Portobello mushrooms in a soy, scallion and balsamic marinade. Served on Romano cheese crusted French bread with a side of homemade potato salad or coleslaw.