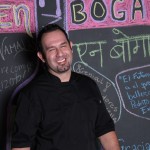 Chef-Restauranteur Pedro Torres has created quite the buzz with his Nuevo Latino Cuisine baby; En Boga.  This eclectic smash hit on Ave. de Diego has taken the area by storm, winning over stubborn food critics with a fresh and casual take on the Puerto Rican bistro.
Native of Barranquitas, he credits his "country chef" grandmother for instilling the inspiration to cook.  Since then, Pedro's culinary voyage has taken him from under the wings of haute cuisine chefs like Mario Pagan and David Chaymol, to teacher at La Instituta de Banca, to his previous project: Sangria Global Cuisine.  At every stop a different piece to the puzzle formed until En Boga's current menu was forged out of creativity, experience and some old fashioned dedication.  Pedro told us, "I want to create a unique flavor where the different elements create a new taste.  There must be balance.  Balance between sweet and bitter."  Pedro also takes great pride in the textures his dishes possess.  "I try to create new textures", he explains, "I like to mix crispy with a molecular foam for example."
And for that, Foodiespr.com proudly welcomes Pedro Torres as TOP CHEF.
For full review and info of En Boga