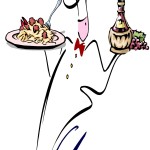 Al Dente in Old San Juan has created a buzz around their Food & Wine pairings for several years now.  Designed by the trinity of restauranteurs Margie Alcaraz and Giancarlo Amenta and Chef Billy Gautier, these monthly events have garnered a faithful following of foodies.  Al Dente has unveiled their next big thing, a new 5 course Craft Beer and Food pairing which will take place the 2nd thursday of every month.  Foodiespr.com was on hand for the inaugural event and it was a huge success with a sold out sitting for an experience that delivered.
The first course was welcome appetizers.  Bacalao & grouper cakes, Ossobucco on baked nan bread and morcillas arancini.  The arancini were very easy to fall in love with and paired best with the Goose Island Urban Wheat Ale.  The tartar for the fish cakes also worked very well.
Second course was a sensational and daring pairing between a pork loin over apple/bacon hash in a Southern Comfort reduction v.s. Samuel Smith's Imperial Stout.  A bold choice for 2nd course, the bacon hash owned a spicy kick that did a marvel with the chocolatey malt flavors of the Imperial stout.  The Pork Loin stood up well giving the combo the weight it needed without interrupting.  Genius selection.
Third course went Risotto Jambalaya v.s. Dubbel Westmalle Trappist Ale.  The summer fruitiness of the Dubbel took the Risotto for a nice leisurely stroll through the park.  Platonic compared to the previous course, but sometimes the best relationships are just that.
Course four went Braised Lamb over polenta v.s. Tripel Westmalle Trappist Ale.  The course had a stern old school steakhouse feel to it.  If you were going to have any of these courses every day for a week, this would be it.  Do attempt this at home, the Tripel is a star that begs for big meat.
Naturally we expected dessert to go stout v.s. chocolate and naturally we were dead wrong, Giancarlo went with Sofie Belgian Style Ale, a sour beer, that went with a granny apple puff pastry.  A caramel drizzle kept the tartness honest, a very nice surprise to end the night.
Tastings go for $55 pp and we can't wait to see where this goes next.  Foodiespr.com will keep you posted!