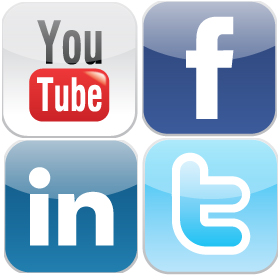 By Chef Norma Llop
Today the subject is obvious, marketing restaurants with Social Media 101. I don't wish to be some kind of social media "expert" (my ability comes more in the form of eating and drinking and telling you, restaurant  owners, what I've observed from San Juan but also in the rest of our Island), but social media is becoming a valuable and usable marketing extension for the restaurant and nightlife business. So, if you don't believe then get help quick! I've written this page in English but trust restaurant owners, chefs or not, can read and write the language, if you wish the foreign tourists to stop at your place for dining.
1. Drop the excuses

I know that island restaurateurs owners aren't often the most tech-savvy of the bunch, but many younger ones should have extensive practice in social media forums. Chefs seem to be sitting at a computers  late night, or using mobiles, to connect with usual friends, like so many of us who work with purchasing, accounting, and perhaps are more into the corporate management desk jockeys. Nevertheless, start out by doing at least an hour early day and another hour late night, if only to barely check your emails. After all, the server you have running your Facebook page could quit the next week. You're busy, always time-crunched and relaxation-starved. No one knows how hard running a bar or restaurant can be, so no, you don't have much time for me and my silly requests to join this new-fangled Internet craze. But you need to! Trust me, today it's a life or death of your business if you do not keep in touch with your guests, newbies or frequent dinners. So START today!
Someone is going to come along (your next door restaurant operator) who can do it – and do it better already. They're going to spread their name across these ciber forums, and the costumers– will come by the neighborhood eventually. They'll come because they know this business is still thriving. They see its presence when they receive weekly or monthly updates about specials or events. When they can't remember the last time they saw your logo or heard about you're in local media, outside boards, or Internet and several social media options already in Puerto Rico, they may wonder, "Hmm – in this economy … maybe Restaurant X closed? We better go to New-Fangled Pepito's for our date/power lunch/office party."  A web presence makes you seem reliable. You just have to put a little effort in. Okay, maybe a lot to start. But in more cases than not, I can promise you it's worth it.
2. Get a website
It should have your address, hours of operation (bar and kitchen, if they are different), a CURRENT menu, and way to contact you (that forwards to an email address you or your manager actually USES.) as minimal. The rest is ancillary, like beautiful pictures, roadside printed drafted maps in nearby gas stations and town shops, or of course you can offer a newsletter sign-up (I can't tell you how many I've signed up for and never received), better directions (people should be able to Google map from your address, but this is a nice, easy feature), photos with action people, lunch specials, and other community activities etc. Ideally this is not a stagnant page, but something that you or your staff checks at least monthly to make sure the information is still current. Which brings me to …
3. Update that website
Even more important is to work inmediately, if you change location, change kitchen hours, change the menu — change your website! Pet peeve: poring over an online menu to psych up dinners for a dinner only to show up and see what I've selected is no longer available. Same applies to menu printed on magazines and Yellow Pages or phone book.
4. Create a Facebook Fan page
Facebook is the site du jour for connecting with others – and it's free. Treat this like a web page and make sure it has all of your venue's pertinent info easily accessible. Spend some time on there, get a little addicted. Merge your contact lists, find the people who come to your bar/restaurant. Include all relevant information in your profile. Do all this before you start adding friends of friends.
5. Interact
Provide some incentive to help spread the word that you're on the net. Pick a random commenter to receive a free appetizer or gift card. Post your daily specials. Post your events (as events – and invite people).
6. Find that writer
You know…the one who writes for the newspaper and blog like www.foodiespr.com  and many others medias on local food/dining/entertainment/nightlife, booth in English and Spanish texts and e-mail her your event information, your menu changes.
7. Master all that? Can you handle Twitter?
Don't do it if the account will simply sit stagnant. This is another free service that connects you with your friends or "followers" and allows updates throughout the day (much like the status update on Facebook, but relegated to a mere 140 characters). " My French Bistro" in  San ____ did this well until their designated Tweeter left the building. Until then, every day, the local Twitter verse was privy to Confit's lunch specials, could tweet reservations and were teased with images of food, prompting that increased dinner reservations, brought in a younger crowd and increased business for their Monday AYCE Mussels special – a night that ordinarily is slow for restaurants. They are still using Twitter, but seemingly not as often.
8. Follow Twitter as you would Facebook
You can even connect them so you only have to update once and get your message out twice. You'll discover the magic of the "ReTweet" as your followers pass on your updates for you (How's that for word of mouth?), and you'll have an instant connection to get much-needed outside feedback on how your venue is in the eyes of your customers.
9. Don't forget about updating!
This is the most important part – staying connected and active in your community. It's easy to not make the time and to push aside self-made deadlines for free marketing, but making the effort will reward you.
10. Learn from your feedback
Twitter and Facebook are great ways to "poll the audience," attracting visitors to your site and finding ways you can improve. Finding out what's important to your customers and where you should focus your time can be an invaluable resource to successful business owners.
Keep in touch until next article 3/11/2012, contact me at:                       nllop@prtourism.com