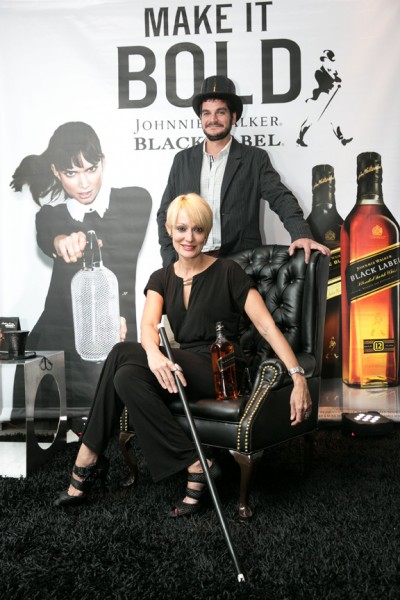 El whisky escocés por excelencia y favorito de los puertorriqueños inicia la serie de eventos exclusivos de Johnnie Walker Striding Society, como parte de la campaña Have Character. El exquisito restaurante Ruth's Chris Steakhouse sirvió de escenario para el primer evento, donde un grupo selecto de invitados disfrutaron de un compartir entre jóvenes empresarios y conocieron el sabor inconfundible y carácter intenso de Johnnie Walker Black Label y Johnnie Walker Double Black.
Por medio del Johnnie Walker Striding Society, se seleccionarán lugares únicos y exclusivos durante todo el año, que servirán como escenario perfecto para educar y degustar el Johnnie Walker Black y Double Black. Los participantes tendrán acceso por invitación directa de la marca y podrán unirse en eventos privados y compartir con la nueva generación de jóvenes empresarios y embajadores de la marca como Pablo del Nido. La elaboración artesanal y calidad de excelencia de las mezclas de los whiskies escoceses de Johnnie Walker ofrecen un carácter distintivo e individual en el sabor singular de Johnnie Walker Black Label y en la intensidad de Johnnie Walker Double Black.
"Hemos diseñado unas experiencias especiales para que el público puertorriqueño pueda conocer más sobre Johnnie Walker y disfrutar del carácter intenso de su whisky escocés favorito. Johnnie Walker estará con el consumidor puertorriqueño en todo momento: en los mejores restaurantes y barras, en los supermercados y tiendas, así como en su ambiente íntimo del hogar", expresó Enrique Anduze de Méndez & Co. distribuidores exclusivos de la marca en Puerto Rico.
Johnnie Walker Black Label es una mezcla  de los whiskies escoceses más reconocidos, famoso por su sabor robusto, mientras que Johnnie Walker Double Black es una creación moderna y clásica al estilo Johnnie Walker Black Label con un carácter más profundo e intenso, derivado de whiskies ahumados y añejado en barriles de roble.
Innovación y sofisticación
Johnnie Walker Black Label y su campaña Have Character estará activa en diferentes locales de la Isla, y como parte de la misma, se llevarán a cabo una serie de eventos promocionales en selectas barras y restaurantes de Puerto Rico brindando una experiencia educativa y sensorial.
Para llevar la experiencia a un nivel de sofisticación superior, las personas podrán degustar el 'Perfect Serve' de Johnnie Waker utilizando un sifón de la marca que gasifica el agua y alarga el coctel sin endulzar ni distorsionar su sabor.
A través de Facebook/JohnnieWalkerPR, Twitter/JohnnieWalkerPR y de los medios locales, las personas podrán estar al tanto del calendario de eventos que se llevarán a cabo en los mejores establecimientos comerciales. Además a través de todo el año, las imágenes y experiencias del público serán agrupadas a través del hashtag #JWBLACKNIGHTS.
Perfect Serve
Puedes disfrutar Johnnie Walker Black Label solo, con un toque de agua o combinarlo con soda o "ginger ale". Con su calidad única, no hay límite en las formas en que puedes disfrutar la marca de whisky deluxe favorita en todo el mundo.
Para los que prefieren un sabor más intenso, el Double Black se degusta mejor con agua para resaltar los sabores intensos y ahumados. Los sabores que se descubren son a frutas secas y vainilla cremosa, a diferencia del Black Label, que tiene un balance único a sabores suaves y frescos con tonos acaramelas.