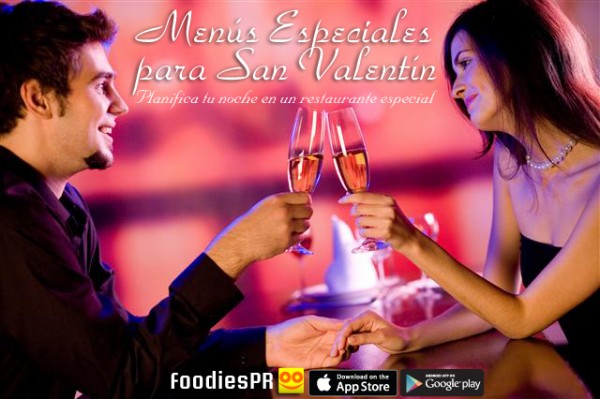 Hemos reunido los especiales de algunos de los mejores restauranted de Puerto Rico para su conveniencia a la hora de elegir donde planifica pasar esa noche tan especial. No olvide bajar nuestro App FoodiesPR para aprovechar sus especiales y descuentos.
Eighty20 Bistro en el Hotel Verdanza
Salt Gastro Bar en el Hotel Howard Johnson
Celebra tu Amor con nuestro Valentine's Dinner en Salt Gastrobar!!!
1st Course: Burrata Salad or Forestiere Soup
2nd Course: Marinated Tender Steak or Herb Crusted Halibut
3rd Course: Chocolate Mousse Tort or Raspberry Mousse
$60.00 por persona y en pareja, incluye una Botella de Cava!!!
Llama ahora al 787-919-7575 para reservar tu espacio!!!
Lola Eclectic Cuisine en el Ponce Plaza Hotel & Casino
Valentines Day is the prefect opportunity to let your love be heard!
Say it out loud!
Do you have something special planned?
Make your reservations at 787-843-5050
La Ana de Cofresí en el Hotel Villa Cofresí
Llama pronto para tu reservación. Tendremos música romántica en el Restaurante de 6:00 – 10:00 pm y también música en el área del Bohío con Buena Vibra de 8:00 pm hasta la medianoche.
Rosa Mexicano en Paseo Caribe
CBar en Palmanova, Palmas del Mar
Reservations are open. Make your love bird happy! @CasaLola
Sábado 14 de Febrero, , celebra en Chilango el Amor y La Amistad. .. música en Vivo. Menú Especial. . Llama al 787-200-6275 Guaynabo City
Pendientes a este Post ya que iremos incluyendo más especiales.