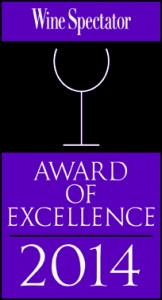 Felicidades al prestigioso restaurante The Eclipse por su selección por la revista Wine Spectator para el premio Excellence Award 2014 el cual será publicado en la edición de Agosto de la afamada revista. Eclipse es el único restaurante con tan prestigioso premio en el oeste de Puerto Rico.
En The Eclipse puedes seleccionar de una gran variedad de vinos internacionales. Se ofrecen más de 105 selecciones, incluyendo 16 vinos por copa y dos vinos de categoría súper premium también por copa. Viñas como Grigich Hills, 2010, Chardonays de California y Duckhorn 2007, Merlot Californiano. Las mejores selecciones de países como España, Francia, Chile, Argentina, Australia, Nueva Zelanda e Italia.
Todos los vinos aparecen en su carta con la puntuación, origen y año de respectiva vendimia. Recuerde pedir la recomendación del Top Chef Jeremie Cruz para una buena selección de maridaje con su comida.