The Islands' definitive upscale dining experience, Perla, debuted its new menu during Puerto Rico Restaurant Week in May.  The new dishes were created by Chef Lindell Smith, prodigy of Executive Chef Dayn Smith, showrunner at Perla for over 2 years and proves Lindell's uncanny ability to add his own personality while sticking to the game plan.   The Contemporary American Cuisine remains true, with lots of grilled meats, local produce and high end global ingredients.  The techniques are still meticulous and old fashioned and the flavors still evoke an endless summer.  Perla is as Perla as it has ever been, only with a slate of new "must try" items to complement a menu full of them.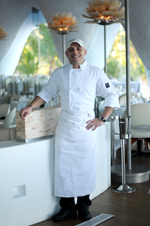 Foodiepr.com sampled some for the new dishes including the Fried Oysters – Cilantro Puree, Tomato Chutney and the Orecchiette -Taylor Bay Scallops, Andouille Sausage.  Both are bold new appetizers that absolutely must be paired with one of Perla's large selection of white wines.  The Tomato Chutney in particular was an enjoyable dash of sweetness that foiled beautifully with the Oysters.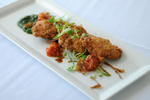 Widely recognized as the best seafood restaurant on the Island, Perla has expanded on an already robust selection with new main courses like the Atlantic Pollock – Masala Mash, Kripsy Kale.  This one we paired with a dirty Grey Goose Martini and it will go down as one of the most paralytically satisfying moments in this food bloggers experience.  The Pollock gets extra points for being a sustainable fish supply and the mid firm texture took to the coco-curry like a babe in a blanket.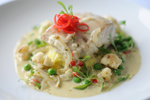 None of this of course is without mentioning Perla's usual fine dining standards on service and dècor.   A continued testament to one of the greatest restaurants in the history of Puerto Rico.  Foodies looking to try Perla's new menu can find it here:
If you are still unfamiliar with Perla, here is a little video to  get you up to speed.
Perla is located at La Concha Resort in Condado and opens at 6pm every day.  Reservations can be made at 787.977.3285 and Foodiespr.com strongly recommends making one if you are going on any night.
Buen Provecho!