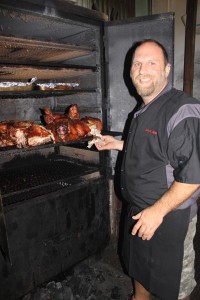 If you appreciate great BBQ you have to visit La Estacion by my friend Chef Kevin Roth. La Estacion is located in Fajardo, on the east side of Puerto Rico, and is by far the best BBQ in the area. I knew I had to pay La Estacion a visit after reading Chef Roth's impressive biography which I have provided below for your reading pleasure. Smoking is a passionate hobby of mine, so when Kevin showed me his smoke box and the mango tree wood he was using to smoke ribs, pork and chicken, I knew this guy had to be legitimate. Take a minute to read Chef Roth's biography and then do your taste buds a favor, and make the trip out to La Estacion for a fantastic gastronomical experience.
A graduate of the Culinary Institute of America, in Hyde Park, NY,  Kevin Roth received his real world training in the kitchens of San Francisco alongside chefs like Wolfgang Puck and Bradley Ogden.  This experience led him to develop his own style of comfort food, which is always seasonally inspired and driven by local products.
Kevin Roth honed his craft, cooking in kitchens across the country from Miami to the Lodge at Vale, Colorado. Upon returning to New York City, Kevin Roth teamed up with Katy Sparks to open Quilty's in Soho, an instant success. He then became the Executive Chef for Coup in the East Village which was well received by both the public and the press. Kevin at Coup was cited several times in the New York Times, Daily News, New York Post and received high Zagat ratings. While at Coup, Kevin Roth was invited to cook at the James Beard House.
After 9/11 Kevin Roth took a brief sabbatical from the New York restaurant world. For a year and a half, Kevin worked as the private chef for the high profile couple Ellen Barkin and Ronald Perelman.
In 2003, Kevin re-joined forces with Katy Sparks as Chef de Cuisine at Compass.  During his time at Compass it was rated with 3 stars by The New York Post and The Daily News and voted Best new Restaurant by Zagat Survey.  He then moved on to become the Executive Chef at One, in New York's Meatpacking district, where he continued to receive acclaim and acknowledgement from the press and critics, even participating in a live cooking demonstration for CBS news.
In 2007 Kevin Roth opened La Estacion in Fajardo, PR with wife and partner Idalia Garcia. With La Estacion, Kevin combined his love for Puerto Rico and passion for Barbecue, creating a new style of cuisine, termed Nuyorican BBQ.  Kevin's change of pace from the fine dining restaurants of NYC was noted by Nation Restaurant News, who featured an article on this story. In Puerto Rico, Kevin Roth has participated in the Cattleman's BBQ Competition and Puerto Rico Food and Wine Festival winning the hearts of both locals and tourists. The cuisine of La Estacion has been quoted as "Una Parada Obligada" by El Nuevo Dia and has been cited in Primera Hora as well as several foodie blogs on the web.