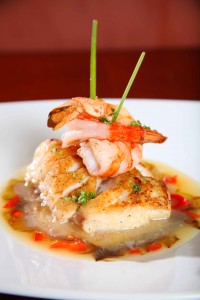 International Cuisine isn't just a title at Latitudes, it's a life style!  Every menu item is appropriately identified with coordinates (so is the wine list) so you can fully appreciate the globality of modern dining.  The recipes are kept traditional, the curry is a classic example of curry and the Churrasco aims to be exactly Argentinian.  It's pretty inspiring to be schooled in so many different cuisines and that's what Chef Juan Carlos Ramirez Arellano at a mere 28 yrs of age has proven he can do.  Such versatility is the reason Latitudes has so much repeat business, even if you were to somehow get bored of dishes from every corner of the map, Chef Ramirez can also surprise you with a fusion dish from his daily specials list!
Latitudes is ocated at Calle teniente César Gonzalez #553, Urb. Roosevelt Hato Rey.  787.764.9830.
Foodeispr.com recommends the Tuna Tar Tar in sesame oil with pine nuts, sirachs, soy and mint.  We love our Tar-Tars, and this one ranks among the best we have had.