Review Submitted by Sara Thompson
Last Thursday a companion and I decided to stop for dinner at Yaya's Pizza and Sushi in Guaynabo after hearing rave reviews from friends. I will start by saying that my first impressions of Yaya's Pizza and Sushi were positive. Well-dressed young professionals filled the main dining area; Tables of girlfriends meeting after work laughing over sangria and pizza. In fact looking back, I think most of the tables within eye view were sipping sangria and eating pizza which should have been a hint as to what to order. Nevertheless, the atmosphere was vibrant and the people around us looked like they were having a good time.
And that is unfortunately where the positive experience and review ends for Yaya…
After looking through the lengthy array of hodgepodge cuisines which ranged from pizza and calzones, a mixed of protein entrees with pick your own sauce and side dish, to Americanized/Puerto Ricanized take on sushi (meaning mostly tempura rolls and cream cheese filled rolls) my companion and I decided against heavy pizza and calzones, and opted for the lighter sounding fare: Pegao appetizer and a Summer Roll as an entrée for him, and the Shrimp Entrée with aioli sauce and side of sautéed vegetables for me.
Next, my companion ordered a beer and I requested water. By the time my water arrived my companion was halfway through his beer and his entrée which arrived before his appetizer, and it was delivered by a new waiter because our original waiter had apparently gone home for the evening. When my water finally arrived we had to remind our new waiter that we had ordered an appetizer and that my shrimp entrée had not arrived yet. The Summer Roll that arrived was loosely rolled with soggy, overcooked rice, unevenly sliced, quarter size diameter sushi with various amounts of spicy mayo squeezed haphazardly atop this sorry excuse for a sushi roll. In short, it was a sloppy, unappetizing presentation and I've had better quality fish and better crafted sushi at mall food court sushi stands for half the price.
More time passed and my companion received his late arriving appetizer while I continued to sit patiently with no water refill and still no food. On the menu the description of the Pegao was spicy crab and shrimp over fried rice cake, and for the price I was expecting lumps of fresh crab and shrimp tossed in a tasty spicy dressing over slightly crispy rice, but in fact what arrived at our table was crab stick (imitation crab) with almost nonexistent shreds of shrimp atop two giant mountains of rock hard fried rice that you couldn't even put a knife through. To say the proportions of this plate were off would be a gross understatement.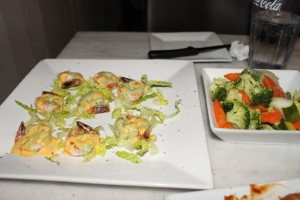 More time passed and my patience gave way to grumpy hunger when our new waiter asked if we were ready for the check. "The check?! What about my food?!" Again, we had to remind our waiter what I ordered for an entrée.
When my food finally did each our table 2 ½ hours later, what arrived was 8 tiny, cold shrimp laid out on an oversized plate accompanied by some sort of shriveled up, intensely bitter tasting greenery sprinkled here and there. The sauce drizzled over the shrimp wasn't even the aioli I ordered, but rather the basil. My side of sautéed vegetables arrived a few moments later and I was dumbfounded to find sautéed cucumber in my vegetable medley… really? Cucumber? Anyone that has ever fried an egg can imagine what happens to a cucumber when you try to sauté it: soggy, mushy mess. I want to note that this appetizer size portion of cold food cost me $18! And the final bill including tip (I work in the industry and can't in my right mind screw a waiter, no matter how horrible the experience) set me back over $50!!!
I will end by saying this was by far the worst dining experience I have ever had, and I would not recommend this restaurant to anyone. I will also add that I have never written a restaurant review positive or negative, but feel it is my duty to warn other people to save their hard earned money, so they don't end up feeling duped the way I do.
Thanks for reading.