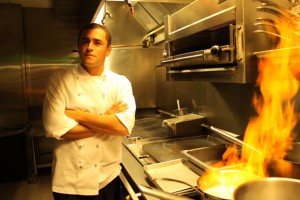 Maycoll Calderón was born in Venezuela on 1983 and in his short life has lived in nine different countries including United States, Puerto Rico and Spain. Maycoll's artistic influence comes from his father, Wilson Calderón who is a spectacular painter and sculptor originally from Colombia, but his astonishing culinary background comes from six internationally recognized Chefs.
At the young age of 18 years Maycoll started working in Zarautz, a small city close to San Sebastian with the famous Chef Karlos Arguiñano at his restaurant-hotel named after him. Karlos Arguiñano was the first Spanish chef with a TV show and probably Spain's most famous. Arguiñano combines recipe preparation with tips, jokes and amateur singing. His rustic Three Michelin Stars Hotel – restaurant set within a former castle is in a wonderful location on the seafront in the pretty seaside town of Zarautz since 1978.
Calderón also worked in Spain for Juan Mari's restaurant Arzak in San Sebastian on 2002. This restaurant was awarded the Universal Basque award for "adapting gastronomy, one of the most important traditions of the Basque Country, to the new times and making of it one of the most innovative of the world" and has been a Three Michellin Stars since 1989.
Maycoll lived in Puerto Rico for a short period of time to spend some time with his family on 2005 and worked with local chefs restaurateurs Treviño and Mario Pagán. Soon after that he moved to New York City and started working for one of the most famous Chef around the world, Jean Georges Vongerishten at his main restaurant Jean Georges. This restaurateur and business man has over twenty six restaurants around the world mainly influenced by French-Asian flavors and recognitions of Three and Four Michellin.
After working for four years at the Jean Georges kitchen Calderón was responsible for the opening and success of Jean Georges, Mark Restaurant in New York City. His most recent surprise was becoming the Chef de Cuisine, and the first Latin to lead a Jean-Georges kitchen, for Fern Restaurant, at St Regis Bahia Beach Hotel.
Entrevista por Foodiespr:
¿Cual es tu libro de cocina favorito y cual le recomendarías a tus fans que tengan en su casa?
Tengo muchos libros favoritos. Siempre estoy comprando libros de cocina. Los últimos libros de cocina que me compre fueron, "Eleven Madison Park: The Cookbook", "The Whole Beast: Nose to Tail Eating" y el último libro de cocina de Jean Georges. La cocina es un mundo que siempre está cambiando. Hay que estar a la par de todo lo que ocurre en el mundo culinario.
¿Cual es tu ingrediente favorito para cocinar?
Desde que llegue a la isla del encanto me quede estupefacto con los aguacates. Aguacate es actualmente el ingrediente que mas estoy usando en la cocina.
¿Si el mundo se fuera a acabar en 5 horas cual sería tu última comida?
Mi última comida justo antes un caos mundial seria comerme unos "Soup Dumplings" de "Joe's Shanghai" en el Chinatown de Nueva York. Viví 6 anos en Nueva York y de las cosas que más extraño son esos dumplings.
¿En tu carrera haz tenido algún momento de frustración?
Tratar de ensenar muchas veces se convierte en frustración. Toda persona es diferente y toda persona piensa diferente. Por eso la sicología es extremadamente importante en la cocina.
¿Si a parte de Chef, te dieran a escoger otra carrera, que escogerías?
Seria fotógrafo o arquitecto. Mis padres los dos son artistas. Mi madre es arquitecta y mi padre es pintor. El mundo artístico siempre ha estado en la sangre.
¿Que te ha motivado para llegar a la posición donde te encuentras ahora mismo dentro de la industria?
La motivación hay que buscarla. Es muy importante estar rodeado de personas exitosas. Desde mis principios en mi carrera la motivación más grande siempre ha sido estar trabajando con los mejores chef del mundo.
¿Usas productos del país en tu cocina? ¿Que opinas de la agricultura y pesca del país?
Uso mucho producto de la isla. Actualmente los productos que mas uso son aguacate, cilantro, culantro, achiote, ají dulce, chironja, papaya, carambolas, entre otros. Es muy importante para mi fomentar la agricultura y la pesca en Puerto Rico. Me encetaría que todos los restaurantes en Puerto Rico fomentaran la pesca, y agricultura en la isla.
¿Cual es tu equipo de cocina favorito?
Mi cuchillo japonés y mi pelador son mis fieles aliados en cualquier batalla en la cocina.
¿hay algún plato que odias o estas cansado de ver en los restaurantes?
Estoy cansado de ver en los restaurantes la Ensalada Cesar pero una ensalada Cesar bien hecha a quien no le gustaría comerla.