Master Chef Latino ended with a bang.  Four battle tested competition chefs brought their teams to the rumble and foodiespr.com was proud to be there.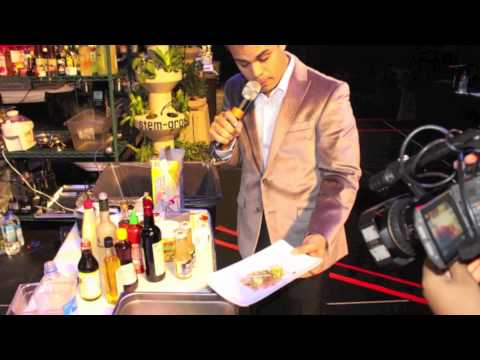 The Teams
Chef Christian Alejandro represented Niche restaurant @ the Acacia Boutique Hotel in Condado.  His team sous chefs were Javi Sanchez and Yaris Carmona.  A wild card for the finals, we all wanted to see just how far the Christian-Javi tandem could go.
Chef Jose Ballester represented BLT @ the Ritz Carlton Hotel in Isla Verde.  Team sous chefs were Chad Neuman and Jonathan Hernandez.  A bit of a dark horse, there was a feeling he would show up big tonight.
Chef Fernando Parrilla represented Crispy & Relleno restaurant in Piñones.  Team sous chefs were Ruben Guzman and Nilsa Murrati.  By far the most experienced competition chef on the stage, he entered as the hands down favorite to take the crown.
Chef Christian Quiñones represented Laissez Faire restaurant in Mayaguez.  Team sous chefs Pierre Saussy and Jeremy Cruz.  Chef Christian is a talented Gastro Artist and he was backed by two big time chefs in their own right.  Smart money would have had this team as a contender.
The Challenge
Melons.  Green and yellow honeydew, watermelon and canteloupe.
20 points on taste, 20 on presentation and 10 for creativity.
Judges were Chef Augusto Schreider, Singer Juan Velez and baseball legend Carlos Delgado  Additional score was by Juan Peña and Ariel Rodriguez.
The time limit is 1 hour and contestants must make 3-5 courses using the ingredient.
Cook!
Competition is about to get under way, we ask the chefs for their final thoughts.  Christian Alejandro honored to be here and hopes the best wins.  He is chomping at the bit to get on stage.  Chef Jose "Chelo" Ballester is stoic as usual and taps his chest to say we are gonna work from the heart.  Chef Fernando Parrilla is measured and tells us this is about compromise.  Christian Quiñones breaks out of his meditation (prayer?) to say "Let's Rock!"
50 minutes to go, Host & Chef Luis Freyre  talking as he has all weekend about the sous-vide technique.  The method uses vacuum packing and boiling to capture flavors and control temperatures.  All 4 chefs are using it.  Pretty telling.
STOP!
The clock is stopped as Freyre intrduces a 2nd mystery ingredient.  The 2nd ingredient needs to be used in all courses with the melons!  WTF!  That wasn't on the itinerary!
40 minutes to go,  Chef Cristian Quiñones is working on a tar tar and has the molecular boxes out.  Fernando Parrilla is working the Ice cream machine.  Pierre Saussiy is juicing with a kitchen cloth, nice.   Chad Neuman is working on sea bass filets.
30 minutes to go, Saussiy is passing a spoon around and the west coast all stars are digging what they taste.  Chef Chelo is doing a papya marinade on churrasco.  Christian Alejandro is working a melon ratatouille, sounds like a winner.
20 minutes to go, Fernando Parrilla is shaving melon rind.  Chef Christian Alejandro is doing a coconut sorbet.  Chad Neuman of team BLT is making love to that seas bass.
10 minutes to go, Chef Christian Quiñones is has langostinos in the sous-vide.  He is using squid ink to garnish and it looks mean.  Christian Alejandro has his usual cool grin on.  Everybody seems calm and collected.  We hope Chad Neuman kissed that sea bass before he handled it.
5 minutes to go, Chef Chelo likes what hes done.  Chef Chritian Quiñones is finished plating with 30 seconds to go, there is a buzz in his corner.
BUZZZZZZZZER
And the winner is…
Chef Christian Alejandro went with a sweet n spicy theme.  He starts with a cold watermelon soup.  3rd course is  a seabass with potato/coconut hash.  Vanilla poached lobster with the melon ratatouille is next and it's a star dish.  Dessert is a melon salad with coconut sauce(sorbet didn't make it).  Judges like the flavor but claim there was too much overall heat.
Chef Jose Ballester starts with two straight cold dishes including a watermelon lobster soup.  One thing we will say about Chef Chelo, the guy really know how to make a tasting.  He starts with 3 straight light dishes and then moves to his proteins for the last two courses, no dessert.   That's really feeling the watermelon.  Bravo, we say it's genius.  The seabass goes over a melon gazpacho and gets raves.
Chef Fernando Parrilla does a melon cocktail sauce.  He does a beautifully plated scallop with melon purees.  Dessert is a cheescake with melon gelatin and the judges love it.  We wonder if he played it a bit too safe.
Chef Christian Quiñones starts with an oyster melon trio.  Judge Juan Velez has problems figuring out how to eat a melon foam oyster.  he says the quote of the night, "They dont do this in coamo".  There were complaints in the crowd as to having celebrity chefs in such an important round and we were skepticalk ourselves, but gotta give credit where it's due Velez and Delgado were fun and loose and gave nice critiques.  Second course is a barn burner; Tuna melon tar tar over siracha-coconut-mayo and prosciutto chicharrones.  OMFG.  4th course is a Don Q coco yellow thai curry, with Poached Hamachi and a balasmic foam.  This is Porn Food.  Dessert trio is goat cheese croquettes with a  foam, gelatin and sorbet.
It finally comes to an end.  This fantastic production finally gets it's final scores…
Chef Christian Quiñones wins with a score of 176!!!  The west coast all stars take the trophy to Mayaguez and the team will compete versus Panama!
Chef Jose Ballester finishes 2nd with 161.
Chef Fernando Parrilla comes 3rd with 154.
Chef Christian Alejandro ends with 139.
We don't think we have heard the last of the other finalists, they will all be part of Puerto Rico's strengthening competition chef field.
Great show, thanks to everyone at Master Chef Latino.  Scores be damned everyone who took part in this knows there were no losers, some just won a little bit more than others!