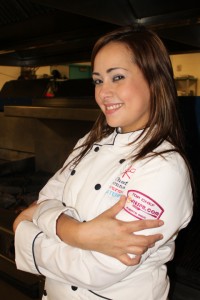 Ever since she was a little girl Chef Ivonne Martínez knew that food was her calling, "When I was four I would use up all of my mother's flour mixing up different culinary concoctions-pretty messy and not very tasty-but always fun". She initiated her studies in 2000 at Johnson and Wales University, Miami Campus where she completed as A.S in Culinary Arts and an A.S in Baking and Pastries.
As part of her extensive training Chef Ivonne had the opportunity to intern with Chef Michelle Bernstein in Miami's Mandarin Oriental Hotel working as everything from a line cook to a banquet cook. She applied her zest for life to her studies and won an array of recognitions for her efforts including a "Who's Who Among Students In American Universities & Colleges" Award 2002-2002, Dean's List 2001 and 2002, a Student Leadership Academy Member, the Service Award for Competition Club 2001-2002 and President of the Jr. American Culinary Federation South Regional Florida 2000-2002, as well as cooking for the Mercedes McClaran VIP's at the 2001 Grand Prix in Indianapolis, amongst others.
Her love of cooking is so vast that she found she couldn't limit herself to one aspect of food "I participated in the World Pastry Forum held in Las Vegas in 2003 where I had the privilege to be under the tutelage of Chef Albert Adria and Chef Jacques Torres. I've worked as expediter, head of catering and chef de cuisine in Florida's Hard Rock Hotel and Casino's Renegade BBQ Company.
Chef Ivonne: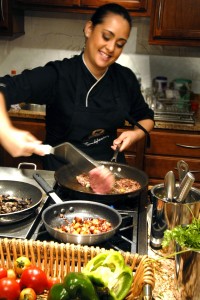 I've also worked as a Pastry Chef in San Juan's Ritz Carlton Hotel and Casino. I've been a professor at the Interamerican University. As the Executive Pastry Chef in Mayaguez's Laissez-Faire Restaurant and as Executive Chef in Aguadilla's D'Grillade Steakhouse. I love making desserts and breads as much as I love creating innovative cuisines, so I've always tried to combine both. I try not to limit myself in anything and I think that really comes through in my cooking." Her outgoing and vivacious nature, as well as her love of teaching, have led to recurring guest spots on WAPA T.V's Entre Nosotras and a stint as demo kitchen chef in 2010's Culinary Festival Porta del Sol. Chef Ivonne feels fortunate to able to practice what she loves. "I love food, it comforts you, and it can take you back to your childhood or help you reach new heights. I'm very lucky to get paid to do something I would do for free. Food is my life."