Considerado en la nueva cocina moderna puertorriqueña como el plato nacional, El Mofongo se encuentra en casi todos los menús del país.  Solo, relleno, con caldo, como parte del relleno o en fusiones,  es empleado de manera creativa para diseñar platos principales o como acompañante.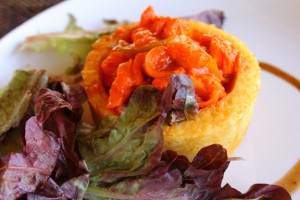 ¿Quien hace el mejor Mofongo?
Para conocer esta contestación debemos conocer el método de preparación del mofongo como base, luego ver las diferentes variaciones y fusiones que se hacen al momento de machacarlo y presentarlo.  Para la elaboración del Mofongo de plátano se le cortan las dos puntas al plátano verde, se corta la cascara por el medio y se pela, se cortan los pedazos de 1 pulgada y se fríen en aceite a 350 grados de 10 a 15 minutos sin que se doren.
En un pilón mueles 3 dientes de ajo con una pizca de sal y aceite de oliva, se le van añadiendo los pedazos de plátano mientras se machacan, en este momento es que puedes crear con las texturas y sabores con lo que lo mezclas al machacarlo. Se le unta aceite a un bowl, se saca el mofongo del pilón y se llena el bowl presionándolo, dejas caer el bowl en el plato para que se desprenda y quedara el mofongo con la forma del bowl.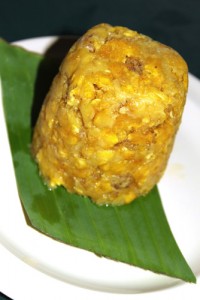 Para añadir textura puedes utilizar pedazos de chicharrón o pedazos de yuca, batata o pana frita. también puedes hacer el mofongo de yuca o pana en vez de utilizar el plátano.
Entre los sitios que puedo citar que preparan un excelente mofongo se encuentran:
Eclipse – Aguadilla hacen un mofongo de yuca de una manera muy especial (foto)., El Guateque – Cupey, Especialistas en Mofongo por generaciones lo sirven con caldo de pollo, Coqui Here – Barranquitas, El mofongo servido en el plato a la bota es el mejor y mi salsa preferida es al ajillo.
Asi que salga y sea juez del mejor Mofongo a su gusto. también puede aventurarse a crear su propio mofongo y compartirlo con nosotros.
Buen Provecho
Mofongo is a dish that has climbed its way up the lad­der and cur­rently should be con­sid­ered Puerto Rico's national dish.  It is made all over the island and is present in all kinds of menus.  Stuffed or as stuff­ing, with chicken broth or dry, tra­di­tional or infused, it is enjoyed both as a main dish or a side.
Who makes the best Mofongo?
In order to answer this ques­tion first we need to know how to make a traditional mofongo and understand its attrib­utes, and then we can explore the vari­a­tions that arise at the moment of mash­ing and pre­sen­ta­tion.
The traditional mofongo uses peeled green plan­tains, cut into 1 inch pieces that are then fried at 350 degrees for 10–15 min­utes and removed before they brown.
In a pilón mash 3 cloves of gar­lic into paste with a pinch of salt and olive oil.  As you mash the gar­lic, add the plan­tain pieces and mash them together.  In this phase you can cre­ate dif­fer­ent tex­tures and fla­vors by the method of mash­ing.  Next, transfer the mofongo from the pilón to a well oiled bowl. Press the mofongo into the bowl mak­ing it com­pact and giv­ing the mofongo its dis­tinc­tive shape.  From there it goes to the plate and off we go!
The most com­mon addi­tions to the traditional recipe are chichar­rones, or pork rinds.  Pieces of cas­sava are some­times used as are fried bread­fruit, and some recipes use cas­sava instead of green plan­tains.
Some of the best places to get mofongo are:
Eclipse in Aguadilla: famous for Cas­sava Mofongo.
El Guateque in Cupey: specializing in Mofongo with Chicken Broth.
Coqui in Bar­ran­quitas:  serves mofongo a la bota as well as my per­sonal favorite al ajillo.
So try the dif­fer­ent types of mofongo or make your own and tell us about it!
Buen Provecho